Pharma Nord Bio-Marine Plus Concentrated Fish Oil Caps
Pure concentrated fish oil with vitamin B
Box with Bio-Marine Plus capsules containing 500 mg of pure concentrated fish oil and two B vitamins
With free fatty acids providing 50% better absorption
Highly concentrated (65% omega 3), easily absorbable fish oil
Combined with vitamins B12 and folic acid that supports our homocysteine ​​metabolism
Highly refined (three-step refining process, where the oil is thoroughly cleaned)
Pure fish oil far below regulatory limits for pollution
The soft gelatin capsules are easy to swallow
Manufactured under Danish pharmaceutical control
Scientifically documented
Dosage
1 capsule a day, unless otherwise advised, preferably during / after meals.
The capsules should be swallowed whole, not chewed or divided. Do not exceed the recommended daily dosage.
Dietary supplements should not replace a varied diet.
A healthy lifestyle and a varied balanced diet are important for maintaining good health.
Combined advantage with Bio-Antioxidant and Bio-Selenium+Zinc
Why free fatty acids?
Fish oil must first be converted into free fatty acids before it can be absorbed. This conversion results in some loss of fatty acids. When you take fish oil as free fatty acids you get 50% better absorbtion. This allows you to achieve the same effect with less capsules.
Good for heart and blood vessels, for a healthy cholesterol level and for flexible joints.
Storage
Dark, dry and at room temperature.
Keep out of reach of young children.
What is Bio-Marine (Plus)?
Bio-Marine capsulesBio-Marine Plus is soft gelatin capsules each containing 500 mg of fish oil including 190 mg EPA, 110 mg DHA and 50 mg other omega 3 fatty acids. The fish oil is in the form of easily absorbed free fatty acids. The fish oil is concentrated, so you get a fairly large amount of omega 3 in a relatively small capsule. The fish oil is highly refined meaning it is cleaned in a special process far below regulatory limits for pollution. Bio-Marin Plus is capsulated in an oxygen-free environment and have an extremely low peroxide value, as the oil is effectively protected against oxidation. Bio-Marine Plus is added two homocysteine lowering B vitamins, folic acid and vitamin B12.
Free fatty acids in Bio-Marine Plus
In nature, omega-3 fatty acids occur as triglycerides that must be decomposed and broken down into "free" fatty acids before the digestive tract is able to absorb them. This process is enabled by a digestive enzyme called lipase. Bio-Marine Plus contains omega-3 in the form of free fatty acids that have already been broken down and are ready for absorbtion. The advantage with this type of omega-3 fatty acids is that they can be absorbed directly even by individuals with impaired lipid absorption.
As a natural consequence of the fact that the oil comes as free fatty acids, it can cause a burning sensation on the tongue if you chew the capsule. It is therefore recommended to swallow the capsule whole. The free fatty acids and the added B vitamins may also result in oil some odor from the oil in spite of the fact that the oil is fresh and clean.
Bio-Marin Plus is a good supplement for those who for various reasons do not eat fish in amounts recommended by health authorities and for those who need an extra clean and easily absorbed fish oil.
What does "Plus" stand for?
Besides omega-3 fatty acids Bio-Marine Plus contains folic acid and vitamin B12. Both vitamins support the omega-3 fatty acids in contributing to a normal homocysteine metabolism. Also, folic acid contributes to a normal immune system, psycological function and blood formation. Furthermore folic acid has a role in the process of cell division and support to normal maternal tissue growth during pregnancy.
What are omega-3 fatty acids?
Illustration of a fishOmega-3 fatty acids is a group of essential, polyunsaturated fatty acids that are primarily found in fish, namely oily fish like herring, salmon, and mackerel. The two most important omega-3 fatty acids are eicosapentaenoic acid (EPA) and docosahexaenoic acid (DHA).
Way back in the late 1970's two Danish doctors, Bang and Dyerberg, demonstrated why Greenland Eskimos, because of their large consumption of fish and sea mammals, generally had better health than the Danish population*. If you don't eat fish it may be an advantage to take a supplement of omega-3 fatty acids to ensure a sufficient intake of these beneficial compounds. In fact, it is ideal if a diet provides the right balance between omega-3 and omega-6 (a group of fatty acids found in plants). Experts believe it is ideal to ingest omega-3 and omega-6 in a 1:4 ratio.
* Bang HO, et al. Acta Med Scand 1976;200:69-73.
Dyerberg J, et al. Lancet 1978 Jul 15;2(8081):117-9
Good for heart, brain, and eyesight
EPA and DHA have several positive benefits. For instance, a 200 mg per day intake of DHA contributes to normal development of the brain, and eyes of the foetus and breastfed infants. In adults, 250 mg of DHA each day contributes to the maintenance of normal brain and vision. In addition, 250 mg of DHA and EPA a day contributes to normal function of the heart.
The mentioned levels correspond with 2 (200mg) and 3 (250mg) Bio-Marine capsules daily.
Highly refined oil ensures optimal purity
The fish oil in Bio-Marine Plus is highly refines in order to have a very high level of purity which means that the oil has undergone a three-step refining process, where the oil is thoroughly cleaned. One of the world's leading technologies is used for screening and removal of unwanted particles like pesticides, heavy metals, furans (highly toxic waste particles from industrial burning) etc. This means that the content of several of these compounds is far below the official threshold levels approved for fish and fish oil products.
The refining process ensures among other things, that:
The maximal content of dioxin and furans is lower than 50% of the threshold levels set by EU and CRN*
The maximal content of PCB is is at least 90% lower than the threshold levels set by CRN*
The maximal content of mercury is at least 90% lower than the threshold levels set by CRN*
*) CRN stands for Council for Responsible Nutrition and is a large and widely respected American branch organization for manufacturers of food supplements in the United States.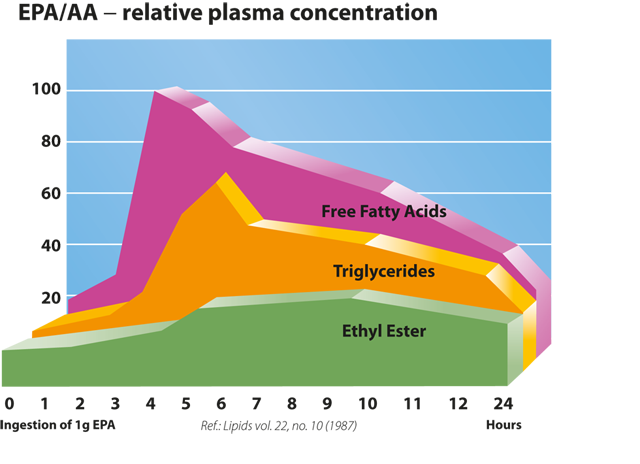 Comparative graph showing that free fatty acids are best absorbed
Bio-Marine Plus – highlights
A Finnish study that was published in a scientific journal* which demonstrated that people, who consumed Bio-Marine daily had the same health benefit as those who ate a fish meal four to five times per week.
Bio-Marine Plus contains 500 mg of concentrated fish oil in each capsule with an omega-3 content of 70% (35% EPA and 25% DHA)
Bio-Marine Plus is capsulated in an oxygen-free environment and has an extremely low peroxide count due to the fact that the oil is effectively protected against oxidation (rancidity)
*) J. Agren et al. 1996; Eur. Journal of Clinical Nutrition 50;765-71.
Official claims
The EU Food Safety Agency (EFSA) has evaluated the evidence behind the product's content of essential omega 3 fatty acids, folic acid and vitamin B12 and has acknowledged the following statements:
EPA* and DHA* contributes to normal heart function
* Min. 250 mg of EPA / DHA per day
DHA* helps to maintain normal vision
* Min. 250 mg DHA per day
DHA* contributes to the maintenance of normal brain function
* Min. 250 mg DHA per day
Intake of docosahexaenoic acid (DHA) intake contributes to the normal development of vision in infants aged up to 12 months of age* (Art. 14)
* The beneficial effect is obtained with a daily intake of 100 mg DHA
Maternal intake contributes to the normal development of the brain of the foetus and breastfed infants ** (Art. 14)
** Info to pregnant and lactating woman: The beneficial effect is obtained with a daily intake of 200 mg of DHA in addition to the recommended daily intake of omega-3 fatty acids for adults, ie: 250 mg DHA and eicosapentaenoic acid (EPA). The claim can be used only for food which provides a daily intake of at least 200 mg DHA
Maternal intake of docosahexaenoic acid (DHA) contributes to normal brain development in the fetus and infants are breastfed *** (Art. 14)
*** Info to pregnant and lactating woman: The beneficial effect is obtained with a daily intake of 200 mg of DHA in addition to the recommended daily intake for omega-3 fatty acids for adults, i.e.: 250 mg DHA and eicosapentaenoic acid (EPA). The claim can be used only for food which provides a daily intake of at least 200 mg DHA
Folic acid contributes to normal maternal tissue growth during pregnancy
Folic acid contributes to normal amino acid synthesis
Folic acid contributes to normal blood formation
Folic acid, vitamin B12 contributes to normal homocysteine metabolism
Folic acid contributes to normal psychological function
Folic acid and vitamin B12 contributes to normal function of the immune system
Folic acid and vitamin B12 contributes to the reduction of tiredness and fatigue
Folic acid and vitamin B12 has a role in the process of cell division
Vitamin B12 contributes to normal energy-yielding metabolism
Vitamin B 12 contributes to normal functioning of the nervous system
Vitamin B12 contributes to normal psychological function
Vitamin B12 contributes to normal red blood cell formation