THERMO STIM™
EXTREME THERMOGENESIS STIMULATION
DESCRIPTION
What is thermogenesis?
Thermogenesis is a whole set of metabolic processes maintaining the body temperature. In simple terms, it is the burning of high-energy compounds to warm up the body and maintain its temperature at a stable and proper level.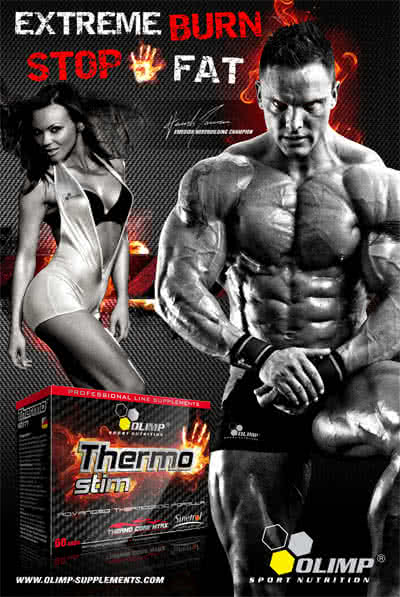 Thermogenesis and fat burning
There are a number of dietary compounds which, at a certain level, may stimulate the body to shed its fat reserves. These substances have a three-fold mode of action – they reduce the appetite, induce and facilitate fat burning and, thus, stimulate thermogenesis. With thermogenics, we can speed this process up and take control over it, the result of which will be the subcutaneous fat reduction. Enjoy the fantastic muscle definition! Burn the excess fat! Shed the kilograms!
THERMOSTIM™ – THE MASTER OF THERMOGENESIS!
THERMOSTIM™ is the only product on the market with a scientifically developed recipe, rich in extensively studied thermogenesis stimulators originating from top-quality plant extracts characterised by the highest level of active substances and vitamins necessary for energy metabolism of lipids.
Only in THERMOSTIM™ you will find:
SINETROL® – a patented extract of citrus fruit
as much as 90% of active polyphenols
6-fold higher rate of lipolysis
sure result – slimming effect confirmed by a clinical trial
THERMOCORE MTRX™ – a unique matrix of the strongest thermogenesis activators; top-quality ingredients selected specially to provide comprehensive effects and optimal utilisation of lipids in metabolic processes
Capsaicine – extremely active substances originating from concentrated extracts of bitter oranges and cayenne pepper; they have a stimulating effect on fat cells resulting in a reduction of their volume and a faster lipid release
1,3,7-trimethylxanthine (caffeine) and 3,7-dimethylxanthine (theobromine) – methylxanthines – active compounds significantly speeding up the metabolism; they have an invigorating and energizing effect plus theobromine, occurring naturally in cocoa, may raise the spirits and improve the wellbeing
EGCG – green tea catechins, polyphenol substances that increase the rate of fat burning by the body; they are potent antioxidants and lipolysis activators and facilitate the elimination of energy resources in fat cells
Raspberry ketones – natural aromatic substances from raspberries, structurally similar to capsaicine and gingerols (active ingredients of ginger); combined, they may exert a positive influence on the rate of body fat mass reduction and may induce the body weight loss associated with it
CGA – chlorogenic acids from the extract of non-roasted green coffee beans, facilitating proper carbohydrate balance in the body; by lowering the rate of sugar absorption they may markedly reduce the appetite leading to body weight loss
Bioperine® – pepper extract containing as much as 95% of piperine; it has a warming effect, accelerates thermogenesis and facilitates the absorption of other active ingredients of the preparation
THERMOSTIM™ Burn the fat, reveal your muscles!
DIRECTIONS FOR USE
1-3 capsules daily, drinking with large amount of water – approx. 30 minutes before breakfast, dinner and training. Do not use in the evening and before sleep. It is recommended to use this formula 2-3 months long, then to take a break for 1-2 months and after the break to repeat the supplementation, if necessary. Do not exceed the recommended daily dose. Food supplements should not be used as a substitute for a varied and balanced diet.
Warning: This product is recommended for adults only. Keep out of reach of children. High caffeine content (67mg per 1capsule)! Do not mix with other preparations with caffeine content. The product should not be taken during pregnancy, breast feeding and by people with heart conditions, hypertension and inclination to depression, as well by those with the adverse reactions to any of ingredients. In case of taking any medicines, please consult your doctor before use.
COMPOSITION
THERMOCORE MTRX™ [bitter orange extract, green tea extract (98% polyphenols, 80% catechins, 55% EGCG), green coffee bean extract (50% ACG), raspberry ketones (98% ketones), theobroma cacao extract (20% theobromine), ginger extract (5% gingerols), cayenne pepper extract (8% capsaicin), Bioperine® black pepper extract (95% piperine)], SINETROL® XPUR [orange extract, grapefruit extract, red orange extract, guarana seeds (90% polyphenols, 20% flavonons, 3% caffeine)], caffeine anhydrous, L-ascorbic acid – vit. C, calcium D-pantothenate – pantothenic acid, pyridoxine hydrochloride – vit. B6, bulking agent – microcrystalline cellulose, anti-caking agent - magnesium stearate, capsule (gelatin, colours: E171, E104, E110).